International life coach and speaker Lyn Elliott will be presenting a 4hour seminar on 'How to be a better YOU, partner, mother, friend".  Light lunch, tea and coffee supplied. There will the opportunity to ask questions and interact with Lyn.
Have you ever wanted to know what truly matters, how YOU truly matter?  Imagine the power of living your life on a higher level
Where health, vitality, joy, wealth, career, relationships, and love is more than just acceptable – it is extraordinary!  Where you feel inspired, confident, completely in control of your life's journey, every single day. You can choose to take your life to a whole new level, simply by understanding the keys to your behaviour.
Why you believe the things you do
Why you think the way you do
How these have influenced and created your life as you know it now
Get clarity around what you really want and how to get it
Discover what is stopping you from getting what you want
Join a community of others that are living life on their terms
Learn a 12-step system to creating life on YOUR terms
RSVP: Monday 1st May Essential, email shoalhavendfa@gmail.com or phone Sam 44215766
Please visit the Facebook Event – FB Better You Seminar
LYN's Facebook page – https://www.facebook.com/search/str/coach+for+women-+superwoman+vs+realwoman/keywords_top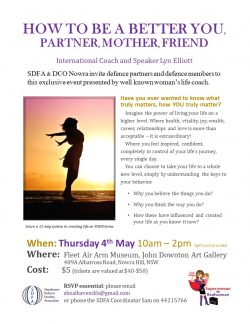 PLEASE NOTE: This event will be held at the Fleet Air Arm Museum, upstairs in the John Downton Art Gallery