BILLY G'S GOURMET COOKIE DOUGH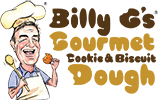 FUNDRAISING NEVER TASTED SO GOOD!
We are excited to announce that we have commenced our very own Billy G's Gourmet Cookie Dough Fundraiser. Billy G's is an Australian family owned and operated business using very special recipes and quality ingredients for that homestyle taste.
There are ten (10) delicious flavours to choose. Each 1kg tub sells for $14-$16. It represents extremely good value at only $0.35 – $0.40 per 25g cookie.
If you would like a Billy G's Cookie Dough order form that will assist you in collecting orders from family, friends & neighbours please call into Kooka and grab one.
OR,
You can place your order online at the following link https://cookiedough.com.au/home
ORDERS NEED TO BE IN BY COB 5TH JUNE
PICK UP FROM KOOKA ON 20TH JUNE (WE WILL ADVISE YOU OF TIME) or arrange with a friend for delivery.