Save the date! Put all of your gorgeous Christmas photos into a 3D shadowbox to treasure for years to come 🙂 Bring along your favourite photos and $20 will cover the 12×12 frame and craft supplies. Not feeling very crafty? Di will have everything prepared and will help.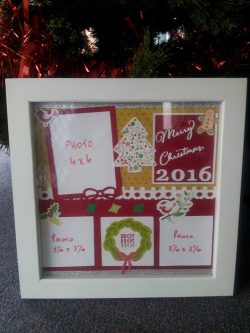 Please click on the link to the Facebook event to confirm your attendance.
NON SDFA members are welcome to book, please add $10.
Payment is preferred EFT, however cash can be paid on the day.
BANK ACCOUNT DETAILS:
NAME: SDFA
BSB: 012787
ACCT: 184071187
Description: PboxThur Surname