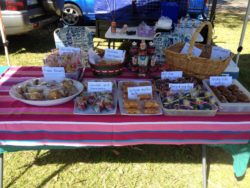 A FUNDRAISING ACTIVITY for SDFA.
A morning of selling baked goods at HMAS Albatross.
~~~ VOLUNTEERS REQUIRED ~~~
1. to COOK baked goods and deliver to Kooka.
2. to SELL baked goods at a unit/department on base.
See facebook event:
**Please 'comment' below to volunteer your baking or your time to sell (of course you can do both). Please comment what you will be baking and If you have a contact or preferred place to sell.
**List of goods we would love you to BAKE for the sale. These have been our biggest sellers at previous Bake Sales on the base, they are also easy to wrap/pack in individual serves. Thanks lovely ladies.
~ Mars Bar slice
~ Rocky Road…
~ Anzac Biscuits
~ Choc Chip Cookies
~ Muffins
You can drop your 'baked goods' at Kooka from 8.30am on the day or arrange someone to pick them up for you (make comment).
Regards,
SDFA Committee
https://www.facebook.com/events/1804588453112757/