Father's Day card Workshops (x3) during the week 20th-24th August. Monday, Thursday, Friday.
Same 5″x7″ card layout at each workshop, attend one or all three! Stick to the layout or adjust it as you wish.
NB: stock and colours will vary from event photo.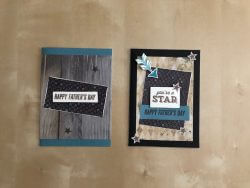 COST: $5/workshop with everything supplied, you'll be able to make two cards. If you have time you're welcome to make more, $2 extra per card.
RSVP ESSENTIAL: on the Facebook event, please click on GOING only if you are physically going to attend the workshop (used to prepare class and supplies). Click INTERESTED or MAYBE if you are not sure and want to see posts and comments.
Please post a comment with which date you wish to attend. Cheers.
PAYMENT: cash on the day or EFT prior or while at workshop.
Please use the description 'cardsSURNAME' when making your EFT payment.
*Account Name: SDFA *BSB: 012787 *ACCT Number: 184071187
CRECHE/childcare is available: for SDFA members, however bookings are NOT made within this event. Look for the CRECHE BOOKING posts made by Melinda Robertson on the SDFA group newsfeed or email shoalhavendfa@gmail.com to book.
Contact: Maxine in the office on 44215766, private message "Kookaburra Retreat Coordinator sfda" or email shoalhavendfa@gmail.com with enquiries.